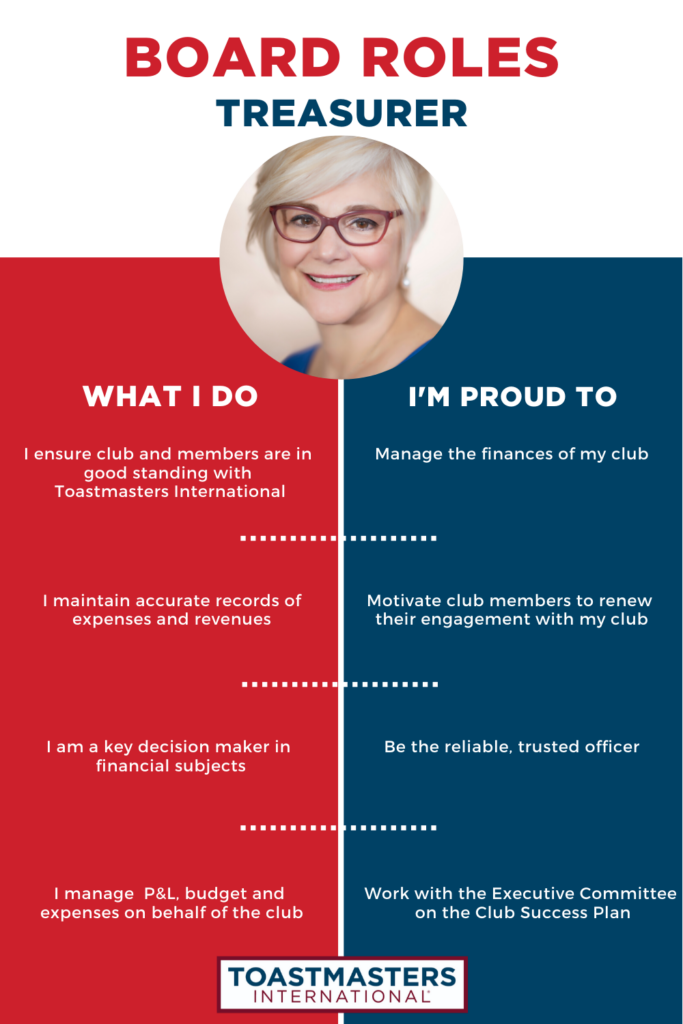 Munich Prostmasters
The club bank account is changed if the treasurer is changed.
The club bank account is held together by the Treasurer and President.
Club membership fees are collected twice a year.
Toastmasters International
Before Club Meetings
• Prepare a financial report as necessary to be presented at the meeting.

During Club Meetings
• Collect any payable membership dues and fees from members.
• Present the club financial report when necessary.
Outside Club Meetings
• Reconcile deposits, expenditures and cash on hand each month.
• If your club is located within the state of California, file the 199N with the Franchise
Tax Board by May 15 for the previous year.
The 199N is filed electronically and typically takes 10 to 15 minutes to complete.
Failure to file ultimately jeopardizes your club's tax-exempt status and subjects
your receipts to income taxes.
• If your club is outside the U.S., consult a tax advisor to ascertain your government's
tax regulations.
• Issue checks to cover club expenses.
• Receive all bills and other financial correspondence for the club.
• Prepare for the audit committee near the end of your term of office.
Links:
Overview: Toastmasters International -Treasurer Overview
Club Leadership Handbook: Toastmasters International -Club Leadership Handbook-1310