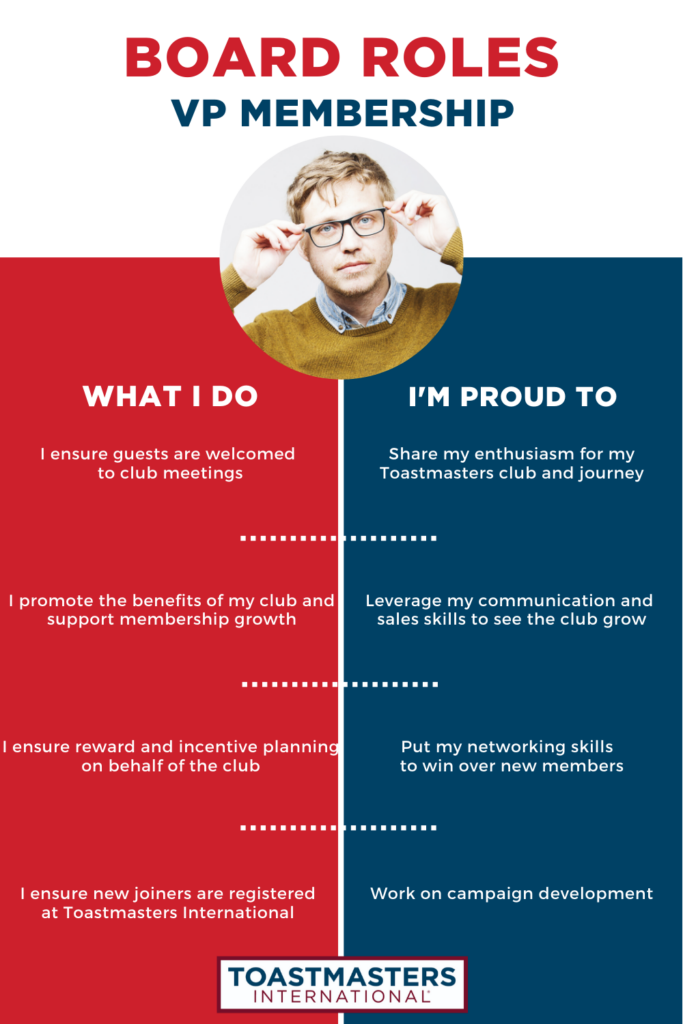 Munich Prostmasters
Work together with the Treasurer to ensure member onboarding
Toastmasters International
Before Club Meetings
• Make a list of the new members who have joined the club since the last meeting and
contact the club president to coordinate an induction ceremony at the next meeting.
• Make Guest Packets to distribute to guests at the meeting.
• Contact former guests who have not joined and members who have not been
attending recent meetings and gently persuade and encourage them to come to
the next club meeting.

Upon Arrival at Club Meetings
• Greet all guests and members at the door and welcome them to the meeting.
• Provide all guests with Guest Packets.
• Answer any questions guests may have about the club.

After Club Meetings
• Meet with guests to answer questions and explain the benefits of Toastmasters.
• Invite guests to join the club or to attend another club meeting if they are hesitant
to join.
• Help guests who do wish to join to complete the Membership Application
(www.toastmasters.org/membershipapps).
Links:
Overview: Toastmasters International -Vice President Membership Overview
Club Officer Handbook: 1310 Club Leadership Handbook (azureedge.net)